About Us
Cramlington Learning Village is a specialist science and vocational college in Northumberland; it is a successful comprehensive school of 2000 students recognized as "Outstanding" by Ofsted four times in succession. The school became an 11-18 school in September 2008 as part of a local authority re organization which saw the old three tier system become a two tier system of primary and secondary education.
This has meant an £11 million new build for year seven and eight students, an extensive, and creative refurbishment of existing buildings (at the school's own cost), a new curriculum at Ks3, and innovative learning spaces built around the concept of enquiry based learning.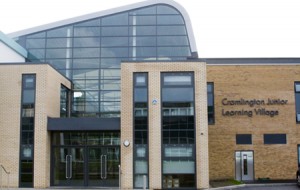 Entrance to Junior Learning Village
Our Core Principles
We believe that all students are unique with different needs, talents, strengths and aspirations and should be challenged to achieve beyond their expectations.
We believe that all of our students are capable of developing the skills and dispositions to become better learners.
We believe that at the heart of our school should be the idea that education is best done 'with and by' our students rather than 'to and for' our students.
We believe that the purpose of education is preparing our students for their future.
We believe that for the future, learning needs to happen in a variety of learning spaces (in and out of school) and through the supportive use of technology.
We believe we need to build and organise our school to meet the diverse needs of our learners and create an experience that is personalised.
We believe that we need the support and expertise of our whole village and more to educate our children.
We believe that we must make our learning village a place everyone enjoys coming to.
We believe at the heart of our school is a commitment to high quality teaching and continuous professional development.
Our Reputation
Cramlington has a reputation for innovation in teaching and learning and has been a case study in several books and publications including "The Learning Revolution" by Gordon Dryden and the "Deep" pamphlets by Professor David Hargreaves.
In 2002, Derek Wise (previous Head teacher) and Mark Lovatt (Deputy Head teacher) worked with Dee Palmer Jones (Director TEEP) to develop a model of teaching and learning on behalf of the Gatsby foundation (the TEEP cycle) which is now being rolled out (through the SSAT) across the country.
Cramlington has its own teaching and learning model (the Cramlington Cycle) which is used to plan all lessons throughout the school. Cramlington was one of the first schools in the country to establish a dedicated learning to learn course designed to teach students the knowledge, skills, and attributes to become successful and lifelong learners.
We have since worked with Alistair Smith (director of ALITE) to develop a learning to learn course "L2" which is being used by nearly a thousand schools –some as far away as Australia. We continue to develop our thinking around teaching and learning and this year we are part of a project with the "Learning Futures" team (Paul Hamlyn Trust/Innovation Unit) to further develop our enquiry approach to learning.
The school has received the international award twice and was among the first schools in Northumberland to receive the BECTA award for use of ICT. Technology plays an important role throughout the school and we have a dedicated team of web designers who work alongside staff to develop high quality digital resources.
Collaboration
Students Working Collaboratively
Cramlington has a long track record of collaboration with other schools and educators. As a leading edge school we have worked closely with a South Shields Community School (recently in the top forty UK schools for CVA) to train all their staff in our teaching and learning model and to provide ongoing training to a selected cohort of staff so the initiative is sustainable.
We are also working with their Leadership team to develop their curriculum and to plan for change as they move towards a new BSF build in September 2011. Further afield we have worked with Copleston High in Ipswich helping them to develop a whole school approach to teaching and learning and this year we begin working with Joseph Swan School in Gateshead under the auspices of the "Inspirational Schools Partnership" (Tribal).
Cramlington is a regional "innovation and leadership" hub and as such facilitates the formation of networks amongst teachers in the North East for the purpose of promoting training opportunities and meeting local needs while providing access to a national network through the Specialist Schools and Academy Trust.
Innovative Learning Spaces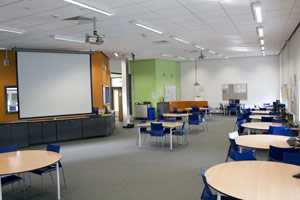 Learning Environments
Features of the school are the innovative Junior Learning Village with its "Village" street, open science learning Plaza, Cyber Café, and flexible learning spaces. The school also boasts its very own 3D screen used across the curriculum and our Biome which was the result of a successful bid through the "Faraday" project designed to take the teaching of science into the 21st Century.
In our SLV we are transforming our 20th century learning spaces to reflect what we have achieved in the JLV so our students can transition seamlessly through the school. Our Business Centre has boardrooms ideal for discussion, presentation and video conferencing with the latest IT equipment to support our students. It also has a 'Blue Sky Thinking' room which is a comfortable flexible space for our students to form ideas and collaborate together.
In terms of our curriculum we explicitly aim to develop independent learners and thinkers through a "blended" approach to pedagogy which sees a mix of enquiry based learning, "Experience" weeks, and structured learning around the "Cramlington Cycle" – our model for teaching and learning.
Delegates at our Annual Conference
Cramlington's Annual Conference – collaboration with the Cramlington Teaching School Alliance
For the past 12 years Cramlington has hosted its own national conference on teaching and learning. This has been a very successful event in which audiences of over 300 educators visited us every year to attend a range of innovative workshops led by our own outstanding teachers.
Since forming our Teaching School Alliance our conference, the Cramlington Teaching School Alliance Festival of Learning, now combines the strengths of our Alliance partners and friends of the Alliance. The heartbeat of our festival has always been our 'by teachers, for teachers' approach and we offer a choice of over 40 practitioner led workshops which share great practice and pedagogy.